Today, more than ever, ambient or environmental noise is getting in the way of effective communications.



When the noise of normal, everyday living drowns-out what you are trying to listen to or say on your public address (PA) system, it's costing you money.

Your customers can't respond, there's confusion, disappointment and mistakes are made. The result is frustration and lost business. In an emergency it could be dangerous!
Think of all of the consumer electronic products where background or ambient noise interferes with our listening pleasure. Your car stereo, TV, home stereo / entertainment centre, multi media computer, telephone / cellphone. When the background noise impacts on intelligibility or even the audibility of what you are listening to, all you can do is to turn up the volume - by hand. With SmartSpeaker's Audiostat™ technology on board, manual volume control is a thing of the past. Audiostat™ will do it for you and it will do it better than you can do it for yourself - seamlessly, automatically and in real time, with thousands of minute adjustments every second.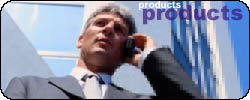 Enhance your consumer electronics products with the world's only ambient noise compensation algorithm. Buy the chip or license the code.

We are already selling our chip DSS 1100™ to a number of leading edge electronics manufacturers and we ourselves have built the world's first SmartAmp™ for IBM, for use in their multimedia interactive kiosks.

How to Buy Products