Features

Realtime digital signal processing



Small, 18-pin, easy-to-interface package



A/D converters on-board



Single supply (5V) operation



Low current consumption (3mA max)



Internal or external oscillator option



Standard serial RS232 diagnostic data I/O available



Gain range externally configurable



3 year guarantee



Choice of Serial/Parallel output to external MDAC or other attenuator



Signal-to-noise ratio and distortion figures set by external gain attenuator circuit, in order to tailor cost with desired performance



Available in plastic DIP (through-hole) and SOIC (surface mount) packages, as well as chip-on-board format



Available in Commercial (0C to +70C), Industrial (-40C to +85C) and Automotive (-40C to +125C) temperature ranges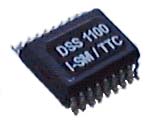 OVERVIEW
The DSS1100™ provides a sophisticated, highly-integrated single-chip solution for ambient noise compensation. The DSS1100 utilizes a fully adaptive DSP algorithm that takes into account the feedthrough of the source signal to the sense microphone to make any setup totally free from instability problems.

In addition, the DSS1100 employs a psychoacoustic model for computing the impact on intelligibility/audibility due to ambient noise, that takes into consideration frequency and time domain information.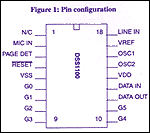 The line and mic audio signals are digitized by built-in A/D converters and the computed gain is made available on a 6 bit bus for driving a parallel MDAC. The gain range is selectable with a choice of 12dB and 22dB (linear in dB). The selection is made by means of a pullup resistor on G0. The gain range is sampled and fixed at power up, or after every reset.
A serial data stream (RS232 asynch format) is available on the DATA OUT pin for gathering operating statistics.


DSS MC11 D




DSS MC11 R




DSS MC11 M




DSS MC11 MIC